SEVENTH NATIONAL
MEDICAL HOME SUMMIT
March 23 - 25, 2015


ONSITE
Loews Philadelphia Hotel
Philadelphia, PA

WEBCAST PARTICIPATION
In your own office or home live via the Internet
with 24/7 access for six months




CONFERENCE CO CHAIRS

John Iglehart
National Correspondent, New England Journal of Medicine, Founding Editor, Health Affairs, Washington, DC

David B. Nash, MD, MBA, FACP
Dean, Jefferson School of Population Health, Thomas Jefferson University, Philadelphia, PA

Marci Nielsen, PhD, MPH
Chief Executive Officer, Patient-Centered Primary Care Collaborative, Washington, DC
KEYNOTE SPEAKERS

Jeff Arnold
Chairman and Chief Executive Officer, Sharecare, Atlanta, GA

Rushika Fernandopulle, MD, MPP
Founder and CEO, Iora Health, Cambridge, MA

Thomas Graf, MD
Chief Medical Officer for Population Health and Longitudinal Care Service Lines, Geisinger Health System, Danville, PA

Christopher Kay, JD
Senior Vice President and Chief Innovation Officer, Humana, Inc., Former Managing Director, Global Head Ventures and Incubation, Citi, Louisville, KY

Stephen K. Klasko, MD, MBA
President and CEO, Thomas Jefferson University and TJUH System, Philadelphia, PA

Farzad Mostashari, MD, MSc
CEO of Aledade; Former HHS National Coordinator of Health Information Technology, Bethesda, MD

Kavita Patel, MD
Managing Director for Clinical Transformation and Delivery, Engelberg Center for Healthcare Reform, The Brookings Institution, Former Director of Policy, The White House, Washington, DC
FEATURED PLENARY SESSION FACULTY

Christine Bechtel
President. Bechtel Health Advisory Group; former Vice President, National Partnership for Women and Families, Washington, DC

Roy A. Beveridge, MD
Chief Medical Officer, Humana, Inc., Louisville, KY

Elana Gordon
Health and Science Reporter, WHYY-FM / The Pulse, Philadelphia, PA

Leslie Kelly Hall
Senior Vice President, Policy, Healthwise, Informed Medical Decisions Foundation, Boston, MA

David K. Nace, MD
Vice President, Population Health, McKesson Corporation, King of Prussia, PA

Debbie Peikes, PhD
Senior Fellow, Mathematica Policy Research, Princeton, NJ

Robert L. Phillips, Jr. MD MSPH
Vice President for Research and Policy, American Board of Family Medicine, Washington, DC

Laurel Pickering, MPH
President & CEO, Northeast Business Group on Health, New York, NY

Chantel Sheaks
General Counsel, International Association of Machinists National IAM Benefits Trust Fund, Washington, DC

Bruce Sherman, MD, FCCP, FACOEM
Medical Director, RightOpt; Medical Director, Employers Health Coalition, Shaker Heights, OH

Jaan Sidorov, MD, FACP
Author, Disease Management Care Blog; Health Care Consultant, Harrisburg, PA

Lisa Dulsky Watkins, MD
Principal, Granite Shore Consulting, LLC, Ferrisburgh, VT
MINI SUMMIT ON LESSONS FROM PCMH IMPLEMENTATION

Martin Abdo
Certified Peer Specialist and Peer Bridger, Harborview Medical Center, Seattle, WA

Pamela Ballou-Nelson, PhD
Process Improvement Consultant, Encore, a Quintiles Company, Houston TX

John Morgan, MD
General Physician, Midlands Health Network, Hamilton, New Zealand

Amy Mullins, MD, FAAFP
Medical Director, Quality Improvement, American Academy of Family Physicians (AAFP), Leawood, KS

Helen Parker
General Manager - Integrated Family Health Services, Midlands Health Network, Hamilton, New Zealand

Kathryn Phillips, MPH
Program Director, Patient-Centered Medical Home Services, Qualis Health, Seattle, WA

Anna D. Ratzliff, MD, PhD
Assistant Professor, Associate Director for Education, Division of Integrated Care and Public Health, AIMS Center, University of Washington, Seattle, WA

Lisa M. Letourneau, MD, MPH
Executive Director, Maine Quality Counts, Manchester, ME (Mini Summit Chair)
MINI SUMMIT ON NEW MEDICAL NEIGHBORS

Patricia Marine Barrett, MHSA
Vice President for Product Development, NCQA, Washington, DC

Marjorie L. King, MD, FACC, FAACVPR
Director, Cardiac Rehabilitation Services, Helen Hayes Hospital; Assistant Clinical Professor of Medicine, Columbia University, New York, NY

LaQuandra S. Nesbitt, MD, MPH
Director, Department of Health, District of Columbia, Washington, DC

Richard Park, MD
Chief Executive Officer, CityMD, New York, NY

David Tayloe, MD
Goldsboro Pediatrics, Goldsboro, NC

Julie Schilz, BSN, MBA
Director, Care Delivery Transformation, WellPoint, Denver, CO (Mini Summit Chair)
MINI SUMMIT ON CLINICAL HEALTH COACHING

David Carlyle, MD
Board Certified in Family Medicine, Hospice and Palliative Medicine and Geriatric Medicine. McFarland Clinic, Ames, Iowa

Elizabeth Carter, MD
Chair, Department of Family Medicine, John Peter Smith Health Network, Ft. Worth, TX

John Hickner, MD, MSC
Head, Family Medicine, University of Illinois Chicago, Chicago, IL

Shirley Roberts, MA
Principal, Roberts Health Solutions, Dallas, Texas

William K. Applegate, PhD, CPC
CEO, Iowa Chronic Care Consortium and Founder of Clinical Health Coach® Training, West Des Moines, IA (Mini Summit Chair)
PRECONFERENCE FACULTY: MEDICAL HOME RECOGNITION/ACCREDITATION

Patricia Marine Barrett, MHSA
Vice President for Product Development, NCQA, Washington, DC

Lon M. Berkeley, BA, MS
Project Director, Community Health Center Accreditation, The Joint Commission, Evanston, IL

Alan Manning
Chief Operatng Officer, Planetree, Inc., Derby, CT

Kylanne Green
President and Chief Executive Officer, URAC, Washington, DC

Dennis Schultz, MD, MSPH, FACOEM
Midwest Regional Medical Director, QuadMed; AAAHC Surveyor, Accreditation Association for Ambulatory Health Care (AAAHC), Skokie, IL

Patrice V. Sminkey, RN
Chief Executive Officer, The Commission for Case Manager Certification (CCMC), Mount Laurel, NJ (Preconference Chair)
PRECONFERENCE FACULTY: SETMA's MEDICAL HOME JOURNEY -- THE CONTINUING PURSUIT OF EXCELLENCE

Jerry P. Abraham, MD, MPH, CMQ
Resident Physician, University of Southern California (USC) Family Medicine Residency Program at California Hospital; Trustee-Elect, American College of Medical Quality (ACMQ), Los Angeles, CA

Theresa Bailey, LVN
HCC Risk Specialists and EMR Trainer, Member Accreditation Team, Beaumont, TX

Jayne Bryant, RN, BSN
HCC Risk Specialists and EMR Trainer, Member Accreditation Team, Beaumont, TX

Pat Crawford, CMOM, CMC, CMIS
Director of Care Coordination, Member Accreditation Team, Beaumont, TX

Brenda Kerl
Member, Patient Centered Medical Home; Member, SETMA Community Council, Beaumont, TX

Samuel Kerl
Member, Patient Centered Medical Home; Member, SETMA Community Council, Beaumont, TX

Jon Owens, BS
Mechanical Engineer, Clinical Systems Engineer, Member Accreditation Team, Beaumont, TX

Margaret Ross, RN, MSN
Director of Operations, Member, Accreditation Team, Beaumont, TX

Richard W. Smith
Member, Patient Centered Patient Home; Member, SETMA Community Council, Beaumont, TX

James L. Holly, MD
Chief Executive Officer, SETMA; Adjunct Professor, Family & Community Medicine, University of Texas Health Science Center San Antonio School of Medicine; Clinical Associate Professor, Department of Internal Medicine, School of Medicine, Texas A&M Health Science Center, Beaumont, TX (Preconference Chair)
LUNCHEON AND BREAKFAST TABLE DISCUSSION HOSTS
GME and PCMH Curriculum Development


Jerry P. Abraham, MD, MPH, CMQ
Resident Physician, University of Southern California (USC) Family Medicine Residency Program at California Hospital; Trustee-Elect, American College of Medical Quality (ACMQ)

Interprofessional Workforce Training


William J. Warning, MD
Program Director, Crozer-Keystone Family Medicine Residency Program, Crozer-Keystone Health System and Co-Director, PCPCC Education and Training Task Force, Springfield, PA

Creating a Virtual Patient-Centered Medical Home


Charlene McFeeley, NP
Vice President, Healthcare Initiatives, ExamMed

Barbara Pyle, MSN, CRNP, FNP-BC, COHN-S, CME, MBA
Founding Member, The River Practice

Using Practice Facilitators to Initiate Quality Improvement


Debbie Peikes, PhD
Senior Fellow, Mathematica Policy Research
SPECIAL BENEFIT FOR MEDICAL HOME TRAINING CERTIFICATE HOLDERS
Participants who successfully complete the Medical Home Training Program offered in conjunction with the National Medical Home Summit are eligible to receive a 15% tuition discount for courses taken as part of the Master of Science in Healthcare Quality and Safety (MS-HQS) degree program offered through Thomas Jefferson University's School of Population Health. To be eligible for this discount, Medical Home Summit attendees must meet all admissions requirements for the program and must enroll by TBD. For more information about Jefferson's MS-HQS see www.jefferson.edu/population_health.



This site complies with the HONcode standard for trustworthy health information:
verify here.

BROCHURE NOW AVAILABLE
Click here to download the brochure.
CO-HOSTED BY
CO-SPONSORED BY
CO-LOCATED WITH
FIFTEENTH POPULATION HEALTH COLLOQUIUM
A Hybrid Conference and Internet Event
The Leading Forum on Innovations in Population Health & Care Coordination
Sponsored by Jefferson School of Population Health
Cosponsored by Population Health Alliance
March 23 - 25, 2015
Loews Philadelphia Hotel
Philadelphia, PA
www.PopulationHealthColloquium.com


GRANTORS
SILVER

BRONZE



PRECONFERENCES
PCMH Accreditation/
Recognition
SETMA's Medical Home Journey
MINI SUMMITS
Clinical Health Coaching
PCMH Implementation Lessons
New Medical Neighbors
PLENARY SESSIONS
Policy and Workforce Issues
What Does the Research Tell Us?
Bringing It All Together at the Practice Level
Managing Population Health in the PCMH
PCMH from the Patient Perspective
Why Purchasers Love the PCMH
Culture is King
Putting Primary Care Back in Control of Health Care
Where We Go From Here
MEDIA PARTNERS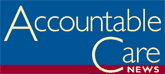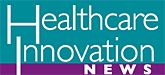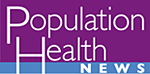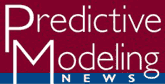 TUITION SCHOLARSHIPS
The Medical Home Summit is now offering partial and full Tuition Scholarships to qualifying representatives of local, state and federal government, consumer advocate organizations, safety net providers, academics, students and health services research organizations.
Click here for more information.



SUPPORTED BY



CONTINUING EDUCATION CREDITS
Case Manager Certification Credit Statement: This program has been pre-approved by The Commission for Case Manager Certification to provide continuing education credit to CCM® board certified case managers for up to 17.25 CE contact hour(s).

NASBA Credit Statement: A recommended maximum of 20 credits based on a 50-minute hour will be granted for the entire learning activity for the National Association of State Boards of Accountancy (NASBA).

ACCME Physician Credit Designation Statement: Approval has been granted from the IAHB designates for up to 19.75 AMA PRA Category 1 Credit(s)™ for both onsite and online attendees.

Click here for details.
FREE TRIAL OFFER FOR INSIDE HEALTH POLICY


Inside Washington Publishers is offering friends of the Seventh National Medical Home Summit a no-obligation, one-month, free trial to InsideHealthPolicy.com, the daily online news service that gives you online access to their 3 newsletters, Inside CMS, Health Exchange Alert and FDA Week, plus all the additional news and features of InsideHealthPolicy.com. Click on the banner above to set up your trial in seconds.


WEBCAST ATTENDEE LOG IN
Webcast attendee may log directly into the live and archived stream by clicking here:

MEDICAL HOME TRAINING PROGRAM LOG IN
Candidates for the Medical Home Training Program may log in by clicking here:

FOLLOW US ON


Tweet using #MedHomeSummit
WITH SPECIAL SPONSORSHIP

- Click here for more info -
- Click here for special subscription discount -


CONTENT OPTIONS
TRADITIONAL CONFERENCE REGISTRATION
Register for Preconference Medical Home Boot Camp and/or Conference. MEDICAL HOME TRAINING PROGRAM
The Medical Home Summit is offering a Medical Home Training Program in the form of an optional course within the conference for attendees wishing to take a deeper dive into the Summit's subject matter. The Program requirements are:
Complete the preconference readings - Click here to review pre-course reading
Consider a series of preconference questions - Click here to review preconference questions
Complete the online Johns Hopkins course on Care Management
Attend Preconference Medical Home Boot Camp either in person or online
Attend Summit either in person or online
Successfully complete a post-conference online examination - Click here to take sample examination.
Attendees who successfully complete Program requirements will receive a certificate of completion.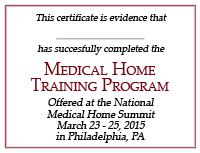 PARTICIPATION OPTIONS
TRADITIONAL ONSITE ATTENDANCE
Simply register, travel to the conference city and attend in person. Onsite attendees may also purchase a flash drive or six months of web access when they register for only $99.

Pros: subject matter immersion; professional networking opportunities; facility interaction



LIVE AND ARCHIVED WEBCAST ATTENDANCE
Watch the conference in live streaming video over the Internet and at your convenience at any time 24/7 for the six months following the event.

The archived conference includes speaker videos and coordinated PowerPoint presentations. Webcast attendees may also buy this content on a flash drive when they register for only $99.

Pros: Live digital feed and 24/7 Internet access for next six months; Accessible in office, at home or anywhere worldwide with Internet access; Avoid travel expense and hassle; No time away for the office




WEBCAST INTERFACE SAMPLE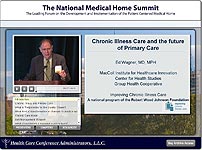 Click here for a sample stream