FOURTH NATIONAL
MEDICAL HOME SUMMIT
February 27 - 29, 2012

ONSITE
Philadelphia Marriott Downtown
Philadelphia, PA

ONLINE
In your own office or home live via the Internet
with 24/7 access for six months

FOLLOW THE 2012 MEDICAL HOME SUMMIT ON
Follow the Fourth National Medical Home Summit before, during, and after the event through a Virtual Conference Hall on Twitter. Ask about forthcoming sessions, comment on speakers in real time, and network with colleagues whether onsite or online. Faculty member Seve Wilkins, MPH will be hosting the virrual hall. Just log into Twitter and use hashtag #medhomesummit. If you are new to Twitter, click here for an excellent introductory "How To" video produced by the Las Vegas Chamber of Commerce.



GRANTORS
SILVER GRANTORS
BRONZE GRANTORS






ADDITIONAL GRANTOR






ONLINE ATTENDEE LOG IN
Online attendee may log directly into the live and archived stream by clicking here:

MEDICAL HOME TRAINING PROGRAM LOG IN
Candidates for the Medical Home Training Program may log in by clicking here:





SPONSORED BY




BROCHURE NOW AVAILABLE

Click here to download the brochure.




SPRING MEDICAL HOME WEBINAR SERIES
Practice Facilitators: A Catalyst for Medical Home Transformation
Tuesday, March 27, 2012 • 2:00 pm - 3:00 pm Eastern

Guided Care as the Path to Patient-Centered, Accountable Care for Seniors
Wednesday, April 18, 2012 • 2:00 pm - 3:00 pm Eastern

Nurse-Managed Health Clinics: A Road Map for Achieving Patient-Centered Medical Home Status
Wednesday, May 23, 2012 • 2:00 pm - 3:30 pm Eastern

www.MedicalHomeWebinars.com

Click here for details on all three webinars
and to register.




MEDICAL HOME SUMMIT APPROVED FOR PHYSICIAN CME
Accreditation Statement

This activity has been planned and implemented in accordance with the Essential Areas and Policies of the Accreditation Council for Continuing Medical Education through the joint sponsorship of the Institute for the Advancement of Human Behavior (IAHB) and the National Medical Home Summit. The IAHB is accredited by the ACCME to provide continuing medical education for physicians.

Credit Designation Statement

The IAHB designates this live activity for a maximum of 17.5 AMA PRA Category 1 Credit(s)™. Physicians should claim only the credit commensurate with the extent of their participation in the activity.




CO-LOCATED WITH TWELFTH POPULATION HEALTH AND CARE COORDINATION COLLOQUIUM
A Hybrid Conference and Internet Event
The Leading Forum on Innovations in Population Health, Chronic Care and Disease Management
Sponsored by Jefferson School of Population Health
Media Partners: Harvard Health Policy Review, Health Affairs, Accountable Care News, Medical Home News, and Population Health Journal
February 27 - 29, 2012
Philadelphia Marriott Downtown
Philadelphia, PA
www.PopulationHealthColloquium.com




MEDICAL HOME TRAINING PROGRAM





WITH SPECIAL SPONSORSHIP

- Click here for more info -
- Click here for special subscription discount -




MEDICAL HOME SUMMIT IS
FOURTH NATIONAL MEDICAL HOME SUMMIT
February 27 - 29, 2012



ONSITE
Philadelphia Marriott Downtown
Philadelphia, PA


OR
ONLINE
In your own office or home live via the Internet
with 24/7 access for six months



SUMMIT CO CHAIRS
| | | | | | | | |
| --- | --- | --- | --- | --- | --- | --- | --- |
| | Melinda K. Abrams, MS, Vice President and Director, Patient-Centered Coordinated Care Program, The Commonwealth Fund, New York, NY (Mini Summit Chair) | | Beverley H. Johnson, President and CEO, Institute for Patient- and Family-Centered Care, Bethesda, MD | | R. Scott Hammond, MD, Medical Director, Systems of Care - PCMH Initiative, Colorado Medical Society Foundation, Chair, Colorado Academy of Family Physicians PCMH Task Force, Associate Clinical Professor, University of Colorado School of Medicine, Westminster Medical Clinic, PCMH Level 3, Westminster, CO | | Jeanne McAllister, BSN, MS, MHA, Director and Co-Founder, Center for Medical Home Improvement, Crotched Mountain Foundation, Co-Director, Got Transition, Center for Medical Home Improvement, Greenfield, NH |
| | | | | | | | | | |
| --- | --- | --- | --- | --- | --- | --- | --- | --- | --- |
| | | | David B. Nash, MD, MBA, Dean, Jefferson School of Population Health, Thomas Jefferson University, Philadelphia, PA | | Sam JW Romeo, MD, MBA, President and CEO, Tower Health & Wellness Center, Medical Director, Accreditation Association for Ambulatory Health Care (AAAHC), Skokie, IL | | Julie Schilz, BSN, MBA, Program Director, Patient Centered Primary Care Transformation, Wellpoint, Denver, CO | | |
KEYNOTE SPEAKERS
| | | | | | | | |
| --- | --- | --- | --- | --- | --- | --- | --- |
| | Molly Joel Coye, MD, MPH, Chief Innovation Officer, UCLA Health System, Former Director, California Department of Health Services, Former Commissioner, Health for the State of New Jersey, Los Angeles, CA | | Scott Heimes, Chief Marketing Officer, WebMD health Services, Portland, OR | | John Iglehart, Founding Editor, Health Affairs, National Correspondent, New England Journal of Medicine, Washington, DC | | David K. Nace, MD, Vice President, Medical Director, McKesson Corporation / RelayHealth, 2012 Chair, Board of Directors, Patient Centered Primary Care Collaborative (PCPCC), Malvern, PA |
| | | | | | | | |
| --- | --- | --- | --- | --- | --- | --- | --- |
| | | | Peggy O'Kane, MHA, President, National Committee for Quality Assurance, Washington, DC | | Ed Wagner, MD, MPH, FACP, MacColl Institute for Healthcare Innovation, Center for Health Studies, Group Health Cooperative, Seattle, WA | | |
PRECONFERENCE I: BOOT CAMP: CREATING A BEST PRACTICE PEDIATRIC MEDICAL HOME
| | | | | | | | |
| --- | --- | --- | --- | --- | --- | --- | --- |
| | Angelo P. Giardino, MD, PhD, MPH, Medical Director, Texas Children's Health Plan; Clinical Professor, Baylor College of Medicine; Attending Physician, Texas Children's Hospital, Houston, TX | | Marie Y. Mann, MD, MPH, FAAP, Medical Officer, Maternal and Child Health Bureau, HRSA, US Department of Health & Human Services, Rockville, MD | | Jill Rinehart, MD, FAAP, Hagan, Rinehart & Connolly Pediatricians, Burlington, VT | | Xavier Sevilla, MD, FAAP, Whole Child Pediatrics, Lakewood Ranch, FL |
| | | | | | | | | | |
| --- | --- | --- | --- | --- | --- | --- | --- | --- | --- |
| | | | David Tayloe, MD, FAAP, Goldsboro Pediatrics, Goldsboro, NC | | Renee Turchi, MD, MPH, Medical Director, Special Programs, St. Christopher's Hospital for Children; Assistant Professor, Drexel University School of Public Health and College of Medicine; Director, Pennsylvania Medical Home Program, Philadelphia, PA | | Jeanne McAllister, BSN, MS, MHA, Director and Co-Founder, Center for Medical Home Improvement, Crotched Mountain Foundation, Co-Director, Got Transition, Center for Medical Home Improvement, Greenfield, NH (Chair) | | |
PRECONFERENCE II: ACCELERATING THE PCMH WITH ADVANCED IT: FROM CHRONIC DISEASE TO COMMUNITY POPULATION HEALTH MANAGEMENT
| | | | | | | | |
| --- | --- | --- | --- | --- | --- | --- | --- |
| | David Ehrenberger, MD, Chief Medical Officer, Avista Adventist Hospital and Integrated Physician Network, Louisville, CO | | Karen Handmaker, MPP, Director, Population Health Management Services, Phytel, Dallas, TX | | Richard Hodach, MD, Chief Medical Officer, Phytel, Dallas, TX | | Martin S. Kohn, MS, MD, FACEP, FACPE, Chief Medical Scientist, Care Delivery Systems, IBM Research, Hawthorne, NY |
| | | | | | | | |
| --- | --- | --- | --- | --- | --- | --- | --- |
| | Kimberly Lynch, MPH, Director, Regional Extension Center Program, Office of the National Coordinator for Health Information Technology (ONC), US Department of Health & Human Services, Washington, DC | | Trudi Matthews, Director of Policy and Public Relations, HealthBridge, Cincinnati, OH | | Salvatore Volpe, MD, FAAP, FACP, CHCQM, NCQA Level 3 Recognition - PP-PCMHT; Chairman, MSSNY HIT, Task Force, Staten Island, NY | | Julie Schilz, BSN, MBA, Program Director, Patient Centered Primary Care Transformation, Wellpoint, Denver, CO (Chair) |
PLENARY SESSION ON PATIENT AND FAMILY INVOLVEMENT
| | | | | | | | |
| --- | --- | --- | --- | --- | --- | --- | --- |
| | Michael Celender, Organization Development Consultant, PFCC Partners at the Innovation Center of UPMC, Pittsburgh, PA | | Kathy Hutcheson, MBA, MHA, Patient Partner Coordinator, South Central Pennsylvania Aligning Forces for Quality (AF4Q), York, PA | | Karen E. Jones, MD, FACP, Medical Director of Quality and Innovation, WellSpan Medical Group/WellSpan Health, Practicing Physician, Brockie Internal Medicine-WMG, York, PA | | Laura Makaroff, DO, Primary Care Health Policy Fellow, The Robert Graham Center, Georgetown University, Washington, DC |
| | | | | | | | |
| --- | --- | --- | --- | --- | --- | --- | --- |
| | Pat Schmidlapp, Member, Health-TeamWorks Patient Advisory Committee, Patient Representative to the Executive Steering Committee, Systems of Care/PCMH Initiative, Parker, CO | | Cherylee Sherry, MPH, CHES, Principal Planner for Health Care Homes, Minnesota Department of Health, St. Paul, MN | | Steve Wilkins, MPH, Founder and Principal, Smart Health Messaging, San Jose, CA | | Beverley H. Johnson, President and CEO, Institute for Patient- and Family-Centered Care, Bethesda, MD (Session Chair) |
PLENARY SESSION ON TRANSFORMATION ISSUES AND LESSONS FROM THE FIELD
| | | | | | |
| --- | --- | --- | --- | --- | --- |
| | Lisa Bielamowicz, MD, Managing Director and National Physician Practice Leader, The Advisory Board Company, Washington, DC | | Chad Boult, MD, MPH, MBA, Professor of Health Policy and Management, Johns Hopkins Bloomberg School of Public Health, Baltimore, MD | | Jonathan Sugarman, MD, MPH, President and Chief Executive Officer, Qualis Health, Seattle, WA |
| | | | | | | | |
| --- | --- | --- | --- | --- | --- | --- | --- |
| | | | Renee Turchi, MD, MPH, Medical Director, Special Programs, St. Christopher's Hospital for Children; Assistant Professor, Drexel University School of Public Health and College of Medicine; Director, Pennsylvania Medical Home Program, Philadelphia, PA | | Debbie Peikes, MPA, PhD, Senior Researcher, Mathematica Policy Research, Visiting Lecturer, Woodrow Wilson School, Princeton University, Princeton, NJ (Moderator) | | |
PLENARY SESSION ON ISSUES FOR THE FUTURE
| | | | | | | | | | |
| --- | --- | --- | --- | --- | --- | --- | --- | --- | --- |
| | | | John Iglehart, Founding Editor, Health Affairs, National Correspondent, New England Journal of Medicine, Washington, DC | | Brian Klepper, PhD, Managing Principal, Healthcare Performance, Inc.; Chief Development Officer, WeCare TLC Onsite Clinics, Atlantic Beach, FL | | David K. Nace, MD, Vice President, Medical Director, McKesson Corporation / RelayHealth, 2012 Chair, Board of Directors, Patient Centered Primary Care Collaborative (PCPCC), Malvern, PA | | |
MINI SUMMIT I: CARE COORDINATION AND THE MEDICAL NEIGHBORHOOD
| | | | | | | | |
| --- | --- | --- | --- | --- | --- | --- | --- |
| | Deborah J. Cohen, PhD, Associate Professor, Department of Family Medicine, Oregon Health & Sciences University, Portland, OR | | Karen Frederick-Gallegos, Director of Quality Initiatives, Colorado Medical Society, Denver, CO | | Carol Greenlee, MD, FACP, FACE, M. Practicing Physician, Western Slope Endocrinology; Member, ACP Council of Subspecialty Societies (CSS) and Co-Chair, ACP Work Group on PCMH-Neighbor, Grand Junction, CO | | Joyce Lammert, MD, PhD, Chief, Department of Medicine, Virginia Mason Medical Center; Clinical Associate Professor, University of Washington, Seattle, WA |
| | | | | | | | | | |
| --- | --- | --- | --- | --- | --- | --- | --- | --- | --- |
| | | | Maria Martins-Lopes, MD, MS, Chief Medical Officer, AMC Health, New York, NY | | Wayne Pan, MD, PhD, MBA, Chief Medical Officer, The Individual Practice Association Medical Group of Santa Clara County Inc. (SCCIPA), San Mateo, CA | | R. Scott Hammond, MD, FAAFP, Westminster Medical Clinic, NCQA recognized PCMH, Level 3, Associate Clinical Professor, University of Colorado School of Medicine, Department of Family Medicine, Westminster, CO (Mini Summit Chair) | | |
MINI SUMMIT II: PATIENT ENGAGEMENT
| | | | | | | | |
| --- | --- | --- | --- | --- | --- | --- | --- |
| | Douglas Goldstein, eFuturist, Alexandria, VA | | Jody Hereford, RN, BSN, MS, FAACVPR, Clinical Programs Consultant, Iowa Chronic Care Consortium, West Des Moines, IA | | Christine G. Leyden, MSN, RN, Senior Vice President & Chief Accreditation Officer, URAC, Washington, DC | | Amy Mullins, MD, Practicing Physician, Trinity Clinic Whitehouse, Whitehouse, TX |
| | | | | | | | | | |
| --- | --- | --- | --- | --- | --- | --- | --- | --- | --- |
| | | | James Rose, Senior Vice President, Business Development, Patient Engagement Systems, Burlington, VT | | S. Michael Ross MD, MHA, Chief Medical Officer, NaviNet, Boston, MA | | Darcy Shargo, Chief Operating Officer, Maine Primary Care Association, Augusta, ME | | |
| | | | | | | | |
| --- | --- | --- | --- | --- | --- | --- | --- |
| | | | Jennifer Seiden, RN, MHA, CPHQ, Director, Quality, Bon Secours Medical Group, Richmond, VA | | Sam JW Romeo, MD, MBA, President and CEO, Tower Health & Wellness Center, Medical Director, Accreditation Association for Ambulatory Health Care (AAAHC), Skokie, IL (Mini Summit Chair) | | |
MINI SUMMIT III: MEDICAL AND HEALTH HOMES IN THE SAFETY NET
| | | | | | | | |
| --- | --- | --- | --- | --- | --- | --- | --- |
| | Charlie Alfero, Director, Center for Health Innovation, Hidalgo Medical Services, Silver City, NM | | Aimee Chevalier, RN, BSN, MHR, Clinical Manager of Union Square Family Health Center, Boston, MA | | Meiying Han, PhD, Economist and Health Services Researcher, Robert Graham Center, Washington, DC | | Margaret Kirkegaard, MD, MPH, Medical Director, Illinois Health Connect, Automated Health Systems, Schaumburg, IL |
| | | | | | | | |
| --- | --- | --- | --- | --- | --- | --- | --- |
| | Marie Maes-Voreis, RN, MA, Director, Health Care Homes, Minnesota Department of Health, St. Paul, MN | | Joseph Parks, MD, Chief Clinical Officer, State of Missouri Department of Mental Health, Jefferson City, MO | | William G. Runyon, MD, FAAFP, Chief Medical Officer, Amerigroup Community Care, Nashville, TN | | Jonathan Sugarman, MD, MPH, President and Chief Executive Officer, Qualis Health, Seattle, WA |
| | | | | | | | |
| --- | --- | --- | --- | --- | --- | --- | --- |
| | | | Mary Takach, MPH, RN, Program Director, National Academy for State Health Policy, Portland, ME | | Melinda K. Abrams, MS, Vice President and Director, Patient-Centered Coordinated Care Program, The Commonwealth Fund, New York, NY (Mini Summit Chair) | | |
BREAKFAST ROUNDTABLE HOSTS
| | | | | | | | |
| --- | --- | --- | --- | --- | --- | --- | --- |
| | Beverley H. Johnson, President and CEO, Institute for Patient- and Family-Centered Care, Bethesda, MD (Patient/Family Advisors - Feb. 29) | | Marie Y. Mann, MD, MPH, FAAP, Medical Officer, Maternal and Child Health Bureau, HRSA, US Department of Health & Human Services, Rockville, MD (Adoloescent Transitions - Feb. 29) | | Wayne Pan, MD, PhD, MBA, Chief Medical Officer, The Individual Practice Association Medical Group of Santa, Clara County Inc. (SCCIPA), San Mateo, CA ACOs - Feb. 28) | | Debbie Peikes, MPA, PhD, Senior Researcher, Mathematica Policy Research, Visiting Lecturer, Woodrow Wilson School, Princeton University, Princeton, NJ (Strength of Evidence - Feb. 29) |
| | | | | | | | |
| --- | --- | --- | --- | --- | --- | --- | --- |
| | | | Julie Schilz, BSN, MBA, Program Director, Patient Centered Primary Care Transformation, Wellpoint, Denver, CO (Payment Models - Feb. 28) | | George Valko, MD, The Gustave and Valla Amsterdam Professor of Family and Community Medicine and Vice Chair of Clinical Programs, Jefferson Medical College, Philadelphia, PA (Residency Programs - Feb. 28) | | |
CONTENT OPTIONS

TRADITIONAL CONFERENCE REGISTRATION
Register for Preconference Medical Home Boot Camp and/or Conference. MEDICAL HOME TRAINING PROGRAM
The Medical Home Summit is offering a Medical Home Training Program in the form of an optional course within the conference for attendees wishing to take a deeper dive into the Summit's subject matter. The Program requirements are:

Complete the preconference readings - Click here to review pre-course reading
Consider a series of preconference questions - Click here to review preconference questions
Complete the online Johns Hopkins course on Care Management
Attend Preconference Medical Home Boot Camp either in person or online
Attend Summit either in person or online
Successfully complete a post-conference online examination - Click here to take sample examination.

Attendees who successfully complete Program requirements will receive a certificate of completion.




PARTICIPATION OPTIONS

TRADITIONAL ONSITE ATTENDANCE
Simply register, travel to the conference city and attend in person. Onsite attendees may also purchase a flash drive or six months of web access when they register for only $99.

Pros: subject matter immersion; professional networking opportunities; facility interaction

LIVE AND ARCHIVED INTERNET ATTENDANCE
Watch the conference in live streaming video over the Internet and at your convenience at any time 24/7 for the six months following the event.

The archived conference includes speaker videos and coordinated PowerPoint presentations. Online attendees may also buy this content on a flash drive when they register for only $99.

Pros: Live digital feed and 24/7 Internet access for next six months; Accessible in office, at home or anywhere worldwide with Internet access; Avoid travel expense and hassle; No time away for the office









INTERNET INTERFACE SAMPLE


Click here for a sample stream


SPECIAL BENEFIT FOR MEDICAL HOME TRAINING CERTIFICATE HOLDERS
Participants who successfully complete the Medical Home Training Program offered in conjunction with the Fourth National Medical Home Summit are eligible to receive a 15% tuition discount for courses taken as part of the Master of Science in Healthcare Quality and Safety (MS-HQS) degree program offered through Thomas Jefferson University's School of Population Health. To be eligible for this discount, Medical Home Summit attendees must meet all admissions requirements for the program and must enroll by July 1, 2012. For more information about Jefferson's MS-HQS see www.jefferson.edu/population_health.
THE GROUP REGISTRATION/ONLINE TRAINING ALTERNATIVE
By arranging to license large group access to the Summit, communities or institutions enjoy the opportunity to both share knowledge with stakeholders, and to implement a community-wide or institutional training program. Group access to the Summit permits the organizational knowledge coordinator either to share conference access with colleagues or to assign and track conference participation to employees. Successful completion of the training can be evidenced by passing the post conference training examination.
HERE IS AN EXAMPLE: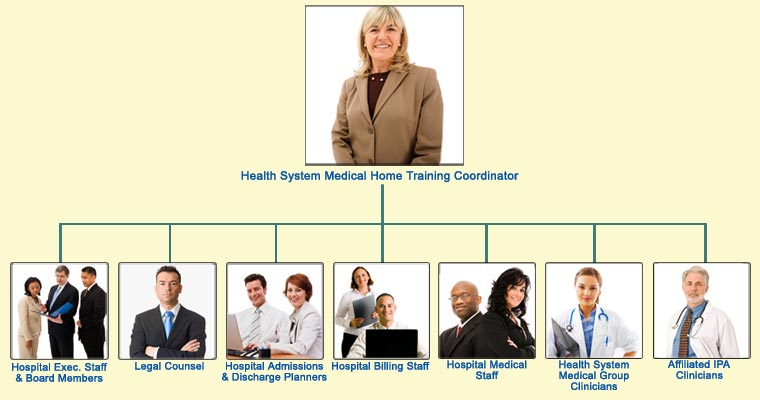 This site complies with the HONcode standard for trustworthy health information:
verify here.